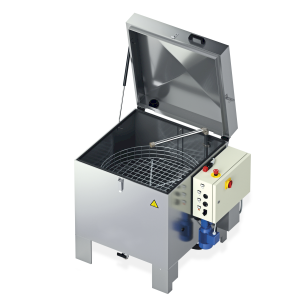 HOTWASH R80M LT BASIC 3PH 400V
Pack size: Unit
SKU: 14020120
This Rozone Hotwash R80 LT is the optimal system for the automatic washing of medium size mechanical parts. The Washing process is carried out by the action of upper, lower and side nozzles that spray the cleaning solution into all parts of the component. The Aisi 304 stainless Basket rotates through the vertical axis by means of a gear motor.
Operators can set the tank liquid temperature as well as the length of the treatment cycle.
Accessories available include a simple and effective system to remove the full oil (non-emulsifying oil) from the washing liquid. It consists in a disc partially submerged in the tank that is slowly rotated by a gear motor. The disc dunks in the full oil that tends to float on the bath surface. The oil is then removed and flowed outside the parts washer through two brushes in plastic scrapping the disc. It is then possible to extend the life cycle of the fluid , thus reducing the replacement frequency.
There is also an option to increase the load carrying capcity of up to 100kg.
Structure and sheet metal in contact with liquid in Aisi 304 stainless steel Basket in drawn sheet metal with external border in AISI 304 stainless steel, Aisi 304 stainless steel filter in pump intake Aisi 304 stainless steel washing pipelines with professional stainless steel flat nozzles

Heating of the liquid with stainless steel electric heating element

Safety limit switch on cover opening

Tank Capacity 130 lt

Pressure 2,5 bar 120 lt/min
Stainless steel electric pump with special seals

Mechanical rotation of basket via gearmotor

Manual water filling valve

Heater 4 kW