HIGH PERFORMANCE CLEANING & SERVICING SOLUTIONS FOR THE AUTOMOTIVE INDUSTRY
From Garage Workshops and Local Authority Transport Operations to the Emergency Services and leading National Fleet Companies, we have a specially selected range of cleaning solutions and service equipment designed to clean, protect and maintain any size or type of vehicle.
WE HELP YOU
Improve workshop efficiency
Safeguard the health and safety of technicians
Comply with latest legislation
Lower costs
Reduce impact on the environment
PARTS CLEANING
FIND THE RIGHT SOLUTION FOR YOUR WORKSHOP
ROWASHER
ROwasher is the most technologically and environmentally advanced MANUAL PARTS WASHER on the UK market. Making parts cleaning a quicker, safer, and more pleasant experience, it boasts a host of "green" credentials.
This clever eco-friendly parts washer uses a process called bioremediation to effectively self-recycle its own cleaning solution.
Fast & efficient cleaning & degreasing
Oil-eating microbe technology reduces waste
No costly service contracts
Assists compliance, reduces risk assessments
Easily maintained in-house
Benchtop, static, mobile, XL available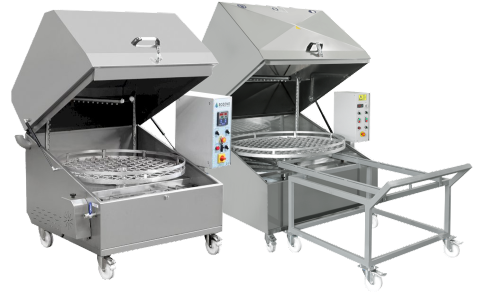 AQUEOUS SPRAY WASH SYSTEMS
If you need a faster, more powerful clean or have multiple components to wash, our AUTOMATIC HOTWASH systems degrease a number of parts in a short space of time or clean components with hard to reach areas.
Our stainless steel, aqueous spray wash machines provide automated cleaning that leaves technicians free to work on other tasks, increasing workshop productivity and saving on costs.
Multiple components washed in one cycle
Combined action of temperature, pressure and chemical action
Non-hazardous degreasing
Minimal Operator involvement
Double spray bar for faster total clean
SERVICE EQUIPMENT
VEHICLE CLEANING
From Traffic Film Removers to vehicle surface cleaners, interior valeting and maintenance products – all designed to effectively, clean, protect and restore. Safeguarding the well-being of technicians, ensuring efficiency while at the same time lowering costs.
BRAKE BLEEDING
Bleed, flush and fill brake and clutch systems faster and more efficiently with our Romess Brake & Clutch Bleeders, saving time and money. Official approval and recommendations from Mercedes, BMW, Ford, Volvo, and Renault.
BRAKE CLEANING
The safe alternative to solvent and aerosol brake cleaning. The Rozone Brakewasher protects Technician`s health by saturating the brakes with non-hazardous aqueous-based cleaning fluid – stopping inhalation.