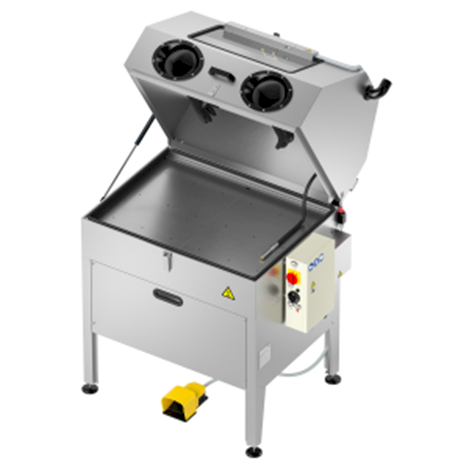 HOTWASH SPRAY JET 3C 1PH 230V
Pack size: Unit
SKU: 14020155
This system performs the successful washing of small and medium sized mechanical parts.
Washing is carried out manually with two gloves mounted in the front panel
The appropriate cleaning results are achieved by a high pressure pump and a special hand held spray-nozzle. The machine is powered by single-phase power source and requires a compressed airline for the air dryer. It is then possible to heat the washing liquid up to 60 °C, and to wash parts with an adjustable pressurised pump up to 80 bar.
In this configuration (C) the machine requires a compressed air feed and can be used only with compatible Rowash water based low foam Degreasing fluid. The fluid can be heated to 60 degrees
Structure and sheet metal in contact with liquid in Aisi 304 stainless steel

Foot Pedal control

Drain valves for emptying tanks

Tank Capacity = 75Lt
Special washing nozzle with jet under pressure and non-slip grip

Adjustable feet to ensure level mounting on floor

Load capacity = 70Kg

Heater = 3kW
Inside Sink Dimensions: L95 cm x W70 cm x H45 cmcm