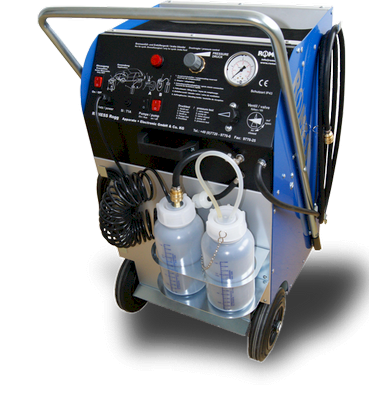 Pack size: Unit
SKU: rotwin
The SE 30-60 A10 RoTWIN is a solid, mobile brake maintenance unit designed for using commercial 30 & 60 litre canisters of brake fluid. The light aluminium and steel construction supported by two rubber wheels and 2 swivel castors make the device easy to transport and manage. The pressure is adjustable from 0 to 3.5 bar (51 psi).
The device uses a double piston system to pump the brake fluid from the tank into the master cylinder fluid reservoir fitted with a special quick-lock adapter.The pressure is built up slowly when the pump is started to avoid churning of the brake fluid.The flow oscillates to flush and vent even the smallest air and moisture locks or dirt and debris out of the hydraulic system to ensure a complete flush and bleed.

Once the process is complete and the pump is turned off, the built-up pressure escapes through the integrated recirculation system and the fluid level inside the reservoir adjusts itself accordingly.

TheSE 30-60 A10 RoTWINalso has a separate pre-draining system with a catch bottle for emptying the vehicle reservoir before the flush.
Fluid level and pressure are continuously monitored and any discrepancy, e.g., empty canister, is indicated by the red light. When the canister is empty, the device automatically shuts off to avoid air being pumped into the hydraulic system.

Once the pressure has fallen to 0 bar/psi, the quick-lock coupling can be disconnected from the adapter without risk of spilling brake fluid