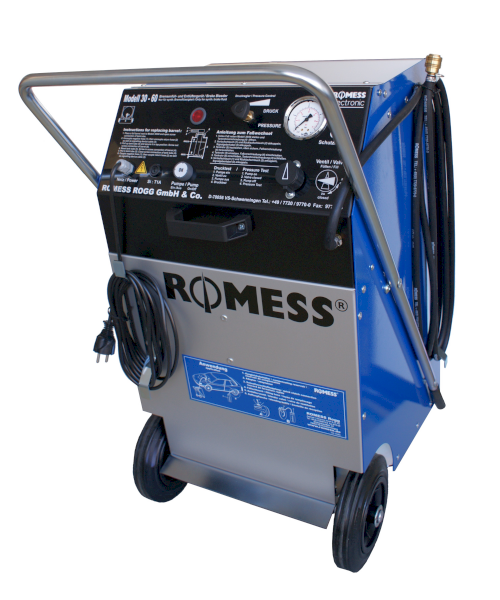 SE30-60 Brake Bleeding System Economy
Pack size: Unit
SKU: 13010973
The brake maintenance unit SE 30-60is the ideal unit for service centers with more than 10 brake fluid changes per day. The unit can be easily managed by just one person which saves valuable time and money. The high flow pressure guarantees a complete flush and bleed of the hydraulic or clutch systems and thus ensures functional reliability of the brake and ABS-, ESP-, EDS- and SBC systems. The integrated shut-off valve allows a leakage test to be performed after repair of either the brake or clutch system.
TheSE 30-60is a solid, mobile brake maintenance unit designed for using original, commercial-type 30 ? 60 liter canisters of brake fluid. The light aluminum and steel construction supported by two rubber wheels and2 swivel castors make the unit easy to transport and manage, even with a full load.

The unit pumps brake fluid from the tank into the master cylinder fluid reservoir fitted with a special quick-lock adapter. The pressure is built up slowly when the pump is started to avoid churning of the brake fluid. The flow oscillates to flush and vent even the smallest air and moisture locks or dirt and debris out of the hydraulic system to ensure a complete flush and bleed.
The pressure is adjustable from 0.4 to 3.5 (6 - 51 psi). The average working pressure is 1.5 to 2.5 bar (22 - 36 psi) - refer to vehicle manufacturer for specifications. The full canister is placed safely inside the integrated com-partment behind the control panel and secured with an adjustable belt. The brake fluid is drawn from the canister with a tank pipe fitted for commercial canisters a with 2? diameter screw caps.