HOW ROWASHERS HELP WORKSHOPS
Excellent cleaning performance on parts, frames and wheels
Up to 50% faster than spray and rag cleaning method and less mess!
Increase revenue with quicker servicing time and faster throughput
Cheaper than using off-the-shelf products
User and environmentally friendly – contains no harmful solvents and no vapours
Clever technology significantly reduces hazardous waste disposal
Easy to maintain without a costly service contract
ROwasher`s Eco Mode feature saves on energy costs
Parts Washers to suit your work space – Benchtop, Mobile and XL available
Designed, tested (by Bike Workshops) and manufactured in the UK
Shop the range
Pays for itself within months
Generate increased profit by offering drive train cleans for £15-£25
If you clean 10-15 drive trains per week, it can generate between £150-£375
The ROwasher bike parts washer pays for itself in months
Enquire online
HOW ROWASHER WORKS
Increase service revenues, generate profit and shorten turnaround time while delivering a first-class clean that traditional cleaning methods cannot match. The ROwasher offers innovative superior cleaning power that is safe and effective on any part of the bike – cleaning easily without dismantling.
Simply wheel the ROwasher sink to the bike stand and clean. The flo-thru brush and flexible nozzle allow you to reach every nook and cranny. The ROwasher cleaning solution, ROwash Bike tackles the removal of dirt and grime from bike parts, quickly and efficiently, with no hazard to users or the environment.
NEW BIKE DEGREASING SOLUTION
Ideal for bike cleaning and degreasing
Safe on paintwork, rubber, plastic, and seals
Fast cleaning - removes dirt, grime, and chain residues with ease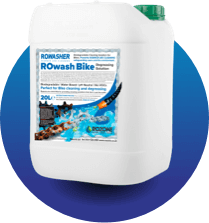 Shop now
MAKING REAL DIFFERENCES TO REAL BUSINESSES
"The ROwasher could be the most profitable tool in your workshop. It makes our job much easier because we can clean a whole bike twice as fast as our previous spray and rag method. We wouldn't be without it!"
Independent Bike Shop, South London
Read a Case Study
Not sure which Parts Washer would be best for you?
Contact our friendly team to discuss your requirements and we'll find you an ideal match.
Looking for another industry?